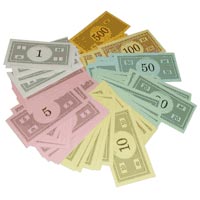 WASHINGTON – After passing a "bipartisan" bill that includes the largest debt limit increase in U.S. history, House Speaker John Boehner (R-OH) is considering pushing a bill through that will officially change the currency of the United States to Monopoly money.
"Let's be honest.  We treat the dollar like Monopoly money as it is," said Mr. Boehner in a statement.  "When we need more, we print more!  So why not just change it already?  Plus, there's millions in Monopoly money out there sitting in board game boxes collecting dust in closets around the country.  It's another source of revenue for our country waiting to happen."
Senate Majority Leader Harry Reid (D-NV) feels this is the right time to make such a change.  "The rest of the world treats our currency like it's Gold paper, when we all know darn well it's not even worth the paper we print it on.  The rest of the world won't care as long as it says 'U.S.A.' somewhere on it.  We can tax the current Monopoly money in circulation and be able to pay for a new bar & grill we want to build in the basement of the Senate."
The White House, as usual, had no comment at this time.