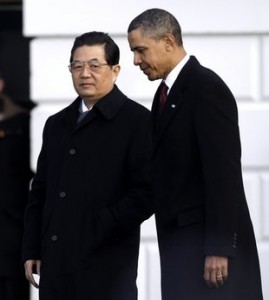 After he realized that the United States owes his country over $900 billion, Chinese President Hu Jintao arrived to a lavish state dinner at the White House with a professional debt collector and repo man.
Speaking through a translator, President Hu said "Do you know how much these suckers owe us??  With as much as they're spending and with a deficit that these guys can't get under control, the people of China… aw hell who am I kidding, ME… doesn't believe they will be able to pay back this debt in the long run.  So I'm here to collect some collateral!  These materalistic bastards in America own some nice stuff, I must say."
Obviously surprised, President Barack Obama was at a loss for words.  "As we try to build our relationship with our friend to the east, President Hu shows up with a repo man trying to take the White House, my limo and Senator John McCain.  I told him McCain he can have, but don't touch my limo!  Do you know how pimp that ride is?!"
After some quick negotiating over an overpriced, fancy dinner, the two Presidents agreed on the Chinese president taking back a box of Snuggies, all eight seasons of 24 on DVD and the entire city of Detroit, Michigan.
Neither party will confirm if Obama's offer of Snooki as collateral was quickly shot down by President Hu, saying "Aw hell no, I watch that show.  I don't know what she has."