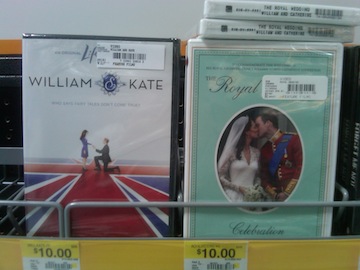 After seeing respectable sales numbers for DVDs of Prince William and Kate Middleton's Royal Wedding, international retailer Walmart has decided to start selling other wedding DVDs, including those of "common folk" in their new Wedding DVD section.
Erin Healy, a recently married woman in Zanesville, Ohio is thrilled that a retrospective DVD of their reception, held in the basement of a local VFW hall, is the first addition to this new selection.  "I can't believe our special day can now be shared by so many!  Ohmigod, you will DIE when you see my Uncle Ralph attempt to dance to the Thriller song!"
Walmart also plans to release a DVD of Jessica & Robert Feldman's elaborate $471,000 wedding and reception that took place in New York City last summer.  The high-priced affair has been praised by critics as "a fairytale wedding on a New York City budget."  The event included a horse carriage ride through Central Park as well as a special sing along of "Sweet Caroline" conducted by the bride's very drunk father half way through the night.
Not everyone is happy about this new section, though.  Concerned husbands have stated that say they are already forced by their newly minted brides to watch the video of their OWN wedding once a month.  The last thing they want to see is someone else's elaborate event.
Expect to see the new Wedding DVD section to be rolled out nationwide over the next 60 days.