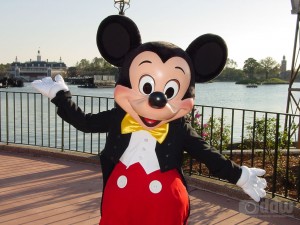 There's currently a warrant out for Mickey Mouse.  Pissed off New Yorkers are going to tar and feather the mouse in the middle of Central Park for being a greedy bastard.
While you were asleep, Cablevision pulled WABC Channel 7 from its lineup of channels.  That's right… the flagship of the ABC Television Network was pulled from the channel lineup for many customers in New York, New Jersey and Connecticut.
Disney, which is WABC's parent company, wants Cablevision to fork over $40 million a year to carry WABC's signal on its channel lineup, according to an article in Business Week.  This is on top of the already $200 million the cable operator pays for the cable channels that Disney operates and distributes.
Why is Disney doing this?
Simple.
The network television business model is dying.  It can't survive in its current form.  Cable channels are thriving because it has two main forms of revenue: subscription costs paid for by cable operators and advertising.
Network television only gets money from advertising.
So what do the big boys think they can do?  Do EXACTLY what one business model is able to do to make up the loss for the others.  But it doesn't work that way.
Network television is in a desperate attempt to find revenue.  As advertising dollars start to dwindle thanks to the expansion of the media and targeted ways to get your message out, the network's generic message branding options are not as necessary or as cost effective to businesses as they once were.
Simply put: they're desperate.  And they're trying anything they can.
In this shifting media time, the networks and local affiliates also need to learn that it's time for THEM to change and let their business model evolve to the next level.
Many of the "traditional media" outlets are scared of what us new media people are doing.  They see competition because we are giving content to people on their level, how they want it and WHEN they want it.
Instead of fighting it, big networks and local affiliates, it's time to ADAPT and join the new world of media.
Your business model is dying.  Don't try to put a band-aid on something that needs to radically change.
Just change it.