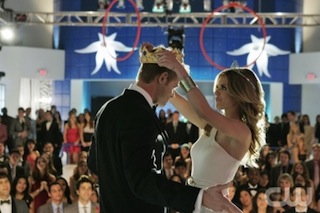 Wasn't all of this stuff supposed to end on prom night?
Prom was the final time we, as a group of people growing up, would vote for who we thought was the most popular of all.  We'd allow them to trance around during an S Club 7 song wearing a plastic sash and a cheap crown that was just a glorified paper Burger King crown.  And that'd be it.  No more.  We officially grew up and we moved on.
Nope.
The popularity contests didn't end.
That was just the beginning.
And now LinkedIn is the latest instigator to bring up the lame game again.
The social network, which just surpassed the 200 million user mark, has been emailing "special" users to tell them they're in the top 1%, 5% and 10% for profile views. as part of celebrating 200 million uses.
Official Matt Haze Translation:  Congratulations, you've won a popularity contest!  You're SPECIAL!
And you know how it's a popularity contest?  Those users are posting screen shots of the email to gloat about it.  And usually on Facebook and Twitter, NOT LinkedIn itself.  (Isn't that just like going to your OTHER group of friends to talk about it instead of the people involved itself?  Quick!  Tell me more between 3rd and 4th period and finish the story over lunch just to rub it in my face!)
Part of me thinks these the people showing off their email award (which technically thousands of others got, not making it THAT exclusive) are the same ones you see in prom photos standing far back in the crowd looking slightly annoyed and golf clapping just to be polite.
Now, this is THEIR moment to get back at all those that "wronged" them.  Now they're grown up and people care about them. When, in theory, we couldn't really care less.
Now, every single time I see someone post their popularity contest award, I picture them standing up, standing proud and tall, waving their mobile device up in the air and saying THIS…
STOP IT.
Smooches!