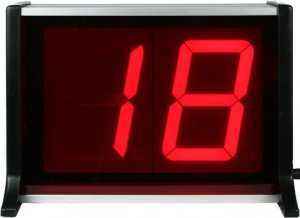 WATERLOO, Iowa – Small business owners across America are always looking for new ways to grow their business using the power of social media.  But one real estate agent in Iowa is taking it to another level.
Brian Bridgman, an agent with "Cornfield Living Real Estate" in Waterloo, Iowa, has installed a digital sign outside his office that displays his current klout score for onlookers to see, hoping to show potential clients he's an expert at online marketing.
"I see so many real estate agents gloating about their klout score on Twitter, and I take part in that too," explains Bridgman.  "So why not display it for all the world to see?? Maybe people will think I'm successful in social media and will want me to list their home then!"
Many real estate agents have been using this measurement of "online influence" to gloat to other agents how "influential" they are.  Yet most agents can't show direct business that was created from spending time playing on klout or gloating how their klout is bigger than others, the same way a man gloats how his manhood is bigger than his wife's ex-boyfriends of the past.
"I get asked a lot about the number since most people don't have a clue what it is, and they don't seem so impressed by it.  They seem to care more about how much their home is currently worth and what they could buy in their price range.  But my real estate agent friends around the country are so jealous of the sign!"
When LaughThenThink.com asked Brian's main competitor what they thought of his klout sign, they responded "What the hell is klout?  Is that some sort of Myspace thing?"
Mariana Wagner contributed to this article.