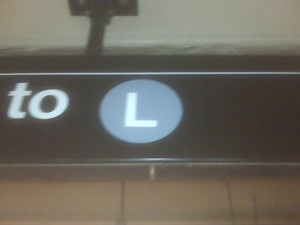 Who needs books.  Who needs the internet.
You can learn everything you need to know in life on a subway ride.
I rarely take the subway in the morning during rush hour, unless I have to.  Today was one of those mornings when I had to.
You would think that a 25 minute packed-in-like-sardines L train ride from Brooklyn into Manhattan would be the most unpleasant experience a human could encounter to start a Monday, especially when they haven't had their first cup of coffee yet.
I beg to differ.
For it was during that 25 minutes of feeling like a number that I was able to educate myself on the lessons of life.
A packed subway ride is like grabbing the Sunday paper and just browsing through all the different subjects fit to print… admiring the vast array of knowledge that life has to offer you.
Don't believe me?  Well fine skeptic, let me make you a believer!
Look at this list of human knowledge I gained this morning on a 25 minute ride on a Manhattan-bound L train…
MUSIC: According to a gentleman by the name of Jerome, who was traveling with a friend of his who was kind enough to share his iPod, if Lil Wayne released 3 new albums at one time, he'd be "all over that shit, and so would everyone else."  Hell, Jerome would even tweet about it, and he doesn't "do that twitter thang."  His partner in crime disagreed with a very valid and thought provoking point: "brotha please, who buys albums???  I'd YouTube that shit!"
SELF-HELP: Hate your life?  Your life will suck just a little less when you have your iPod turned up as loud as you can and you just sit staring outside the window looking at nothing.  But you're in your little bubble.  And for that short time, life in that little bubble sucks a little less.
LIFE: It's the little things in life you enjoy most.  Like winning the luck card early in the morning when you get a standing spot right underneath the air conditioning duct.  It's not necessary to pray that chilled air arrives to you by the time it reaches your part of the car.
LOVE: I love natural brunettes with light blue eyes.  Ohmigod.
BOOKS & NEWS: Reading a Chinese newspaper over someone's shoulder is 100x more interesting than having your head buried in a New York Times. Why?  Two words: the pictures.
FASHION: 2003 called, it wants my old beat up laptop bag back.  But if you look past the laptop bag, damn gurl, I got STYLE!
ORGANIZATION: Always be prepared.  Never have to refill your Metro card during morning rush hour.  You'll always have to wait in line behind some woman who has never used a Metro card kiosk in her life and decided to refill her card by $20 with those fancy one dollar coins.
SEX & RELATIONSHIPS: Yes Mr. Deep Subway Voice Guy, I'm well aware that improper touching on the subway is a crime and I should report it immediately.  But honestly, if someone cops a feel, I won't mind.  Actually, I allow it as a public service to the City of New York.
SEX & RELATIONSHIPS PART B: There is (allegedly) an extended mix of Beyone's "Sweet Dreams" with a rap mixed in with the song.  Our new friend Jerome was listening to it with his bud and rapping along with these new lyrics that I've never heard before.  But it's not the fact that there's a different mix that I really learned.  It was what they were talking about IN the rap.  I had no clue you could do that in the bedroom!  Mental note.
SEX & RELATIONSHIPS PART C: And finally… I learned that Brandy has a real ass of a husband.  I guess last night he was out once again with "that dirty ho" and and she's getting really sick of putting up with it.  I'm sorry Brandy, but YOU are the dirty ho for sticking around.
Next time you're on the subway, put the book away.  Close up the newspaper.  Take the ear buds out.  Just watch.  Just listen.  You just may learn something.