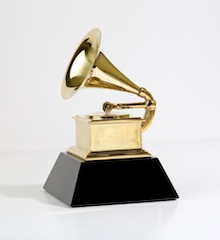 Tonight is "music's biggest night!"  The 55th annual Grammy Awards.
*mumbles*  That's nice.
It's normally a tradition that I watch the award show and live tweet snarky commentary of the show as it happens. A a recovering former radio DJ, it was a fun little thing for me to do.
But tonight, I will not do that.  I will not watch the award show and I will not live tweet it.
Why?
BECAUSE I HAVE MONEY TO BUY MUSIC, BUT THE INDUSTRY WON'T LET ME BUY WHAT I WANT.
SERIOUSLY.
LET ME BUY WHAT I WANT, THEN I'LL WATCH YOUR SHOW.
Let me explain.
Thanks to technology, I can listen to music and radio from (pretty much) any part of this planet.  It is AMAZING how technology has evolved like that.  I can listen to pretty much any radio station in the world that streams their audio (LEGALLY as well) in my car through my stereo anywhere I'm driving in America.  Just stream it through my iPhone, plug it into my car and BAM.  It's just like driving through that city on the other side of the world!  And many times, the audio quality is better than most local FM transmitters in the area.
I do this often.  I listen to stations in London, Toronto, Sydney, Dubai and Auckland just to name a few.  The music mix in each country is different than what we get in America.  Many times, the songs are the same.  Many times, they are different.  Over the last few years, I've heard songs on these stations well before America picked them up as "new music."
But even though I can listen to these stations legally and hear this music, I can not purchase it.  Even though I can listen to it and I really like it and I WANT TO GIVE THEM MY MONEY, because I live in America, I can not purchase it.  They don't want my money.  My American dollars.  The most valued currency in the world.  (well, most valued for now… that's a whole other blog post waiting to happen)
Every year during the Grammys, the head of the record industry gets on stage and patronizes people for not buying music exactly how they want you to.  But yet, in 2013, they STILL are screwing up the system.  You still are not letting us buy what we want.  You're playing a stupid, old business model game.  EVEN THOUGH WE HAVE MONEY TO GIVE YOU.
Here are the three biggest pains of this situation that have come up in the last year…
Example #1:  Sam and the Womp.  Oh do I love myself cheesy sounding songs that sound like they came directly from a late 90s pop album.  They're fun to turn up and just go crazy for over 3 minutes.  (mental picture.  you're welcome)  And last year, I discovered one of them while listening to BBC Radio 1.  Sam and the Womp's Bom Bom (which you can watch the video below).  It's fun.  It's cheesy.  It's very much me.  I could listen to it online on stations in other parts of the world (because America didn't play it at first).  I could watch the video on YouTube.  But could I actually purchase it online when the album was released last summer?  Hell no!  EVEN THOUGH I HAVE MONEY I WANTED TO GIVE THEM.
Example #2:  Olly Murs.  The British X-Factor poster boy is one of my favorite pop artists out there.  I really started to like him during Chris Moyles's 52 hour world recording breaking marathon show when the two had one of the worst slow motion acting spots I've ever seen in my life.  His music is just fun!  I've known about his hit song "Heart Skips a Beat" for a long time, well before it was released here in America last year.  The original version features a rap spot from Rizzle Kicks.  When the label decided to release the song in America, they changed it from Rizzle Kicks to Chiddy Bang.  That's fine.  But after the American version was released, the official original mix with Rizzle Kicks was no longer available to listen to in America on YouTube.  Why?  Because they want me to listen to the Chiddy version?  Even though I've known about the other version (which I like better) and I know it exists?  But they want me to pretend it doesn't exist now?!  I didn't know I look like an idiot!  But here's a lyric video of the original.
Example #3:  Chris Moyles.  I've been a diehard fan of the now former Radio 1 breakfast show host for many years.  Listening to The Chris Moyles Show on Radio 1 every day was part of my running ritual.  His show was available to listen to around the world!  Legally!  So when his new parody album was released late in 2012, was I able to purchase it online, even though I could read about it thanks to his numerous plugs on Twitter and I could listen to his old show?  Of course not!  I'm sure Moylesie would like my money.  But even though I was a loyal listener to the show every day online, I couldn't give them my money online.  Even though Chris has a large following in America thanks to his showing being on Sirius XM for many years as well!  Brilliant work, label!  The physical CD was available to purchase on Amazon as an import, but for nearly $50 with shipping.  Yikes.
I could go on and on.  But these are my biggest recent irks.
You listening, record industry??  Can you see how absurd this is?!?  In 2013?!?
Stop this lame and ridiculous country restriction crap.  We can consume this content thanks to technology.  If we like it, why can't we purchase it?  WE WANT TO GIVE YOU OUR MONEY.  YOU WANT OUR MONEY.  So find a way to make that happen.
It really is that simple.
Smooches!